Dru Couloir (Couloir Nord des Drus) (FR) Renkfälle
Date:
March 2003
Partner:
Urs Odermatt
Conditions:
Ideal: enough ice, nice weather, not too cold
Comment:

We found out, that most people rappel back down the over the route instead of descending to the other side towards the Charpoua hut, as the guidebooks tell you. This is very convenient, because you can climb without backpack, which saves a lot of time. All the necessary belays are in place. (Note: many of them in the ice - this can change)
We needed only 7 1/2 hours up (instead of the 14-18h mentioned in the guidebook) and 2 1/2 hours down, but don't calculate with that time. Another team who started directly behind us was still stuck in the nominee crack when we already had rappelled and headed down to Cham.
The route-finding worried us a bit while we climbed, because there are many pegs and slings everywhere to the left and right. The guidebooks are varying quite a bit, but hopefully with the pictures here you should be able to find your way easily.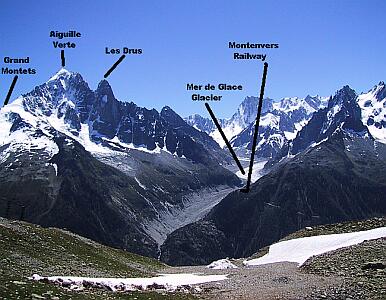 (Click on pic for larger image)